As one enters the warmly lit restaurant one is greeted by cheerful boats bobbing along the canal bearing plates of California rolls and bowls of edamame beans.

The circular sushi bar has room for twenty sushi-craving patrons at one time.

Aki-san Yoshida

reigns

behind the bar expertly slicing fillets of fish with his sharpened knife as he has for the past seven years.

The pre-game warm-up of the Sacramento Kings appears on the television nestled in the corner.

All who enter soon realize that it is "Taiko Time" at Taiko Sushi in the Sun River Shopping Center.

Taiko Sushi is jointly run by brothers Mark and Mike Hayashida.

Together they maintain a close-knit staff of loyal, long-term employees who are dedicated to creating the best possible dining experience.

Devoted to serving fresh, tasty,

aesthetically

pleasing Japanese cuisine, Taiko Sushi enjoys a reputation for excellence in dinning.

Awarded 3 1/2 stars by The Sacramento Bee; Taiko Sushi is especially well known for a variety of inventive sushi rolls.

Originally trained in Tokyo, head sushi chef Aki-san Yoshida has been creating culinary delights containing slices of raw fish, dried seaweed, rice, and a wide array of other ingredients for the past forty years.

Not only does Taiko Sushi offer a lavish assortment of sushi, sashimi, and rolls, but Taiko also serves generous portions of traditionally prepared Japanese foods.

Some customer favorites

include

sesame chicken, teriyaki chicken, beef, and salmon, vegetable and shrimp tempura, gyoza dumplings, and hot noodles.

There are several tasty vegetarian options from both the kitchen and sushi bar.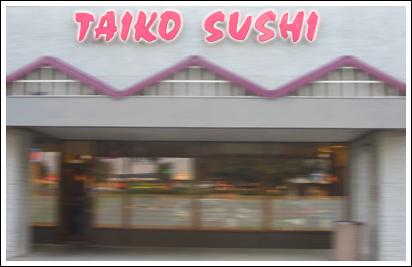 Come to Taiko Sushi to discover the intriguing culinary possibilities that await you. We hope you enjoy your Taiko experience! Serve you soon!